Blade having posted a political debate, I thought it would be important to open up a full line of communication for everyone on all aspects of politics that anyone wants to discuss. Just like the "god or not" thread regarding religion, this thread can cover any political discussions. We can change political subjects as often as needed, but that way we are on one thread, making it easier to track. We can talk about elections, wars, government bills, the occupy movement, anything political. Feel free to ask anything you don't understand as well..... that being one of the most important things. Knowledge. But, understand everything is based on opinions and it is important to research facts yourself to draw what ever conclusion is right for you. One thing I ask is, if possible, post a link with questions/replies when you can that has information regarding your topic. That way it's easier to understand positions for or against something that has a specific source.
First thing I would suggest to do is go to this site:
http://www.politicalcompass.org/test
Here is a comparison chart for reference using known political people: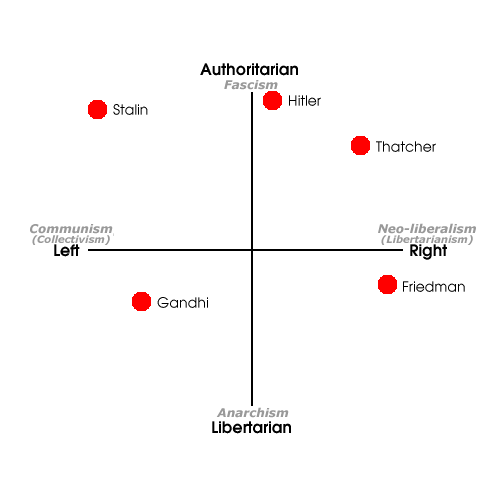 Answer the questions honestly and post the ending results. It won't tell anyone what you specifically believe, but it may give a better understanding to which way you lean....opening the opportunity for people to see where they stand over-all and see who to ask about certain things.